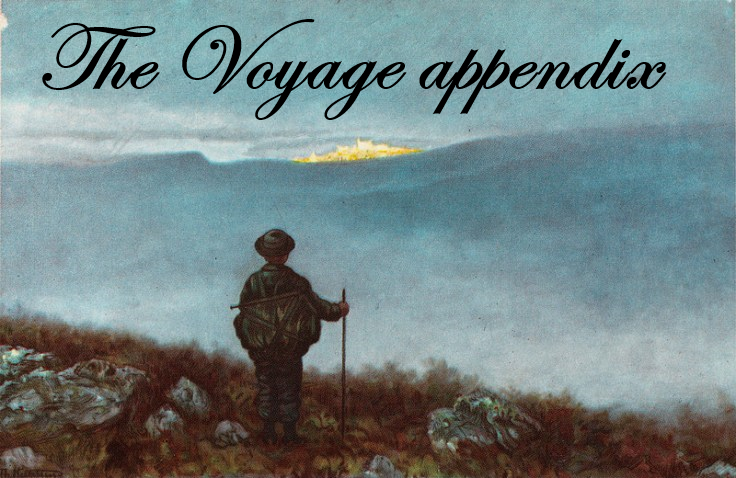 The Voyage appendix
The Voyage appendix is a "zine" in the format of a collection of index card gaming aids intended to flesh-out aspects of voyage and exploration in minimalist OSR role-playing games, that lack such a system, or to add to an established system.
System-neutral for the most part, the only crunch makes reference to HP.
Each index card can and should be used independently, use some and disregard the rest.

Using the whole appendix together is for exploration-type play, for example generating a cool hex map and then having a player group explore it or look for a lost treasure in it, while trying to survive.
They are obviously just guidelines, but at least provide a useful template for making your own, for example making your own region's weather tables or tweaking the terrain generation table to produce more of what your region would have.
The rules are highly condensed, the text is short, it is made to fit on an index card.
Inspired by Dungeon synth music, Hudson river school paintings and the boardgame Outdoor survival (1972), that was suggested in D&D's original edition to be used as a world map. This collection is meant to evoke the sense of emergent wonder of procedurally generated computer games and TTRPG random terrain and encounters tables.
The index cards of the 1st edition include:

Terrain generation: simple rules to iteratively generate a hex map using d6 and d20, including topography, hydrography, vegetation and land features.
Weather generation: simple rules to randomly determine weather conditions according to the season, including suggested effect of extreme weather on characters, like storms, fog and extreme cold.
Equipment on business cards: an alternative way to physically manage equipment using strips of thick paper like blank business cards or post-it notes.
Hex travel: simple rules for sessions where keeping track of travel speed is important, takes in consideration the features of the hex map and the weather conditions.
Survival rules: the "crunchier" card, for sessions that are about wilderness survival or to make the players feel that their decisions matter about what equipment they carry or what route they choose through the landscape by suggesting consequences for things like exhaustion and starvation.
Exploration: a "gamification" of the search for an objective on a hex map, like a lost temple or a famous shipwreck.
Using all the cards together: a card that provides hints on exploration-type play and on how to use all the other cards efficiently.
A title card with a nice picture named "Far, far away Soria Moria Palace shimmered like Gold" by Theodor Kittelsen.
Consider that this page is the introduction, the cards dive right into their subject matter.
It is currently in its beta layout, but the content is complete. The layout of the PDF files will be updated for the print run, following a successful campaign. Probably no major changes.
The downloadable version has different formats:
A PDF file to print and cut your own double-sided index cards (A6) using two A4 or Letter cardstock sheets.
A PDF file laid out for ease of reading on a computer.
I will be creating a blog to support this project and focus on role-playing experiences that focus on journeys and "overland" exploration. So stay tuned, I'l make another devlog when it launches.
For any question contact me at jbherersimard at Google mail.

* POUR LES FRANCOPHONES : L'édition en français est faite, disponible en téléchargement.
Purchase
In order to download this zine you must purchase it at or above the minimum price of $2 USD. You will get access to the following files:
Voyage appendix - PDF - A6 format - English
726 kB
Appendice V : Voyage - PDF - format A6 - Français
653 kB
Voyage Appendix - Printable front/back A6 PDF for A4 or letter - English
971 kB
Appendice V : Voyage - PDF imprimable recto-verso A6 - Français
990 kB
Voyage Appendix - STRETCH GOAL EXTRAS - Printable front/back A6 PDF for A4 or le
597 kB
Appendice V : Voyage - BONUS DE CAMPAGNE - PDF imprimable recto-verso A6 - Franç
572 kB
Printed zine
Support this zine at or above a special price point to receive something exclusive.
1st edition - Physical copy - Shipped
This is the physical version of the 1st edition in english, the main concept of this projet, a collection of A6 format cards. The price is near my costs, so I assume the risk of the shipping costs.
This options includes shipping in a normal sized envelope, so no tracking.
PLEASE ENTER YOUR ADDRESS IN THE ADDRESS FIELD PROVIDED !
1re édition - Copie imprimée - expédition comprise
Voici la version physique de la 1re édition, imprimée en français du projet, soit une collection de cartons format A6. Le prix est prêt du coût, j'assume les risque quand aux coûts d'expédition.
Cette option inclus donc l'expédition dans une enveloppe de format standard, donc sans suivi.
SVP, ÉCRIRE VOTRE ADRESSE DANS LE CHAMP PRÉVU À CET EFFET !
Comments
Log in with itch.io to leave a comment.
Is the funding period for all of February?
Yep, the last day of the campaign is the 28th. But it's only to reach stretch goals, the project is funded by default and I will ship to everyone who bought a physical copy, it's not like a make or break Kickstarter campaign. Thanks for your interest!
Thanks. I'll back it then. It's the first day of the new credit card cycle.I really want the physical version!